Services
Landscape Services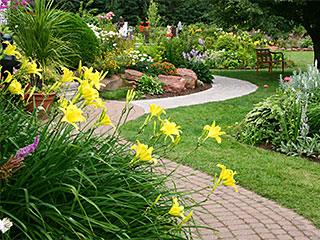 We at Bernardin Landscaping Inc. are one of the oldest companies in the region serving clients in Mokena and its surrounding areas. When property owners in Orland Park, Tinley Park, and Frankfort want any landscaping work done, the first company they think of is ours.

Many small and expansive properties in and around Lockport, Joliet, IL Bolingbrook, and Chicago Heights have been beautified by our expertise in landscaping. We proudly cater to a vast client base in Woodbridge and Plainfield as well. The different services we offer include:


Landscaping
Our landscape team creates stunning gardens that become the perfect backdrop for your home. Our strength lies in working with you and installing a landscape that reflects your vision. We adopt a comprehensive approach to every project, focusing on aspects such as functionality, aesthetics, and durability.

Our company handles everything from new construction, redesign, and upgrades of current landscapes, to berms, and perennial garden installation. We also provide services such as paver installations, sod and seed, pool restoration and spring cleanups and more. Every feature is constructed using low-maintenance, sustainable materials. This helps you get spaces that stay resilient and looking great, with basic maintenance. Read More About Landscaping


Lawn Maintenance
Whether you're interested in an all-inclusive lawn care & fertilizer program or need reliable professional to keep your turf cut we are the company to call. We offer a rangeof services such as weekly mowing April thru October, core aeration, pest control, broadleaf control, de-weeding, dethatching, mulching, re-sodding or re-seeding, grass, brush, and leaf removal, trimming of edges and cleanup of all clippings.

Our lawn maintenance team will provide impeccable care for your turf. In addition, we also offer services such as planting of annuals, pulled-in beds, and bulbs. We offer organic turf care that improves the health and appearance of your lawns. We research various all-natural organic &safe lawn care practices and also follow them meticulously. Read More About Lawn Maintenance


Water Features
Do you want a tranquil & soothing sound of water in your landscape? We are the company that can design and buildunique water features on your property.From waterfalls, and pondless waterfalls, Koi ponds, streams, and fountains, we can design the types of features that will enhance the appearance of your yard.

In addition to all these installations, we can also provide bubbling boulders, patio ponds, and standalone tabletop fountains based on your specific needs. We use high-grade, weather-resistant materials that are long-lasting and easy to maintain. Rest assured that the landscape water features we design & install for you will have premium materials and outstanding finishes. All elements will be designed to complement the styling and look of the other features in your landscaping, ensuring a cohesive look in your landscape. Read More About Water Features


Pavers and Walls
When you hire us for your project we give you a range of options for your landscape. Our company designs & installs paver driveways, walkways & paths, steps, patios, retaining walls, seat walls, mailboxes, pillars, fire pits, fireplaces, and more. We work with paver and block products from companies such as Belgard, Unilock, and Paveloc, giving you almost unlimited options to create unique landscapes. In addition to using high-quality products, we also ensure the best paver installers and wall construction experts handle the job, ensuring the longevity and resilience ofthesefeatures. Read More About Pavers and Walls


Landscape Lighting
Creating a stunning lawn, landscape, or garden is about enhancing the appearance of these features with the right types of exterior lighting fixtures. Landscape lighting is one of the best ways to enliven the look of your house after dark. In addition, we handle up-lighting trees & areas of interest like decorative features etc.

We use techniques such as floodlighting, moonlighting, wash-lighting, as well as outdoor down-lighting to achieve the desired effect. Our lighting experts focus on enhancing area such as entranceways, outdoor kitchens, decks, patios, pools, pavers, planters and more. The right type of lighting can significantly improve the appearance, security; curb appeal and value of your property. Read More About Landscape Lighting

The best services at very competitive landscaping costis what you get when you hire our services. For any more information on our services, feel free to call Bernardin Landscaping Inc. at 708-479-2122. You can also discuss project details or request for a free quote, using this Online Form; we will respond quickly. We look forward to working with you on your next landscaping project.